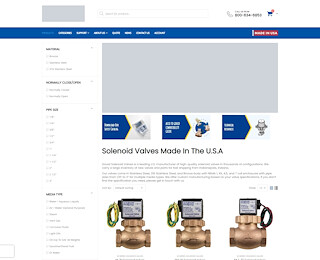 In the labyrinth of industrial applications, steam plays an integral role. Be it for power generation, sterilization processes, or heating systems, the role of steam is undeniable. As such, managing and controlling its flow accurately and safely becomes paramount. Gould Solenoid Valves' selection of top-tier solenoid steam valves provides an excellent solution.
How Solenoid Steam Valves Work
A solenoid steam valve is specifically engineered to control the flow of steam in a myriad of industrial processes. At its heart, it utilizes a solenoid—an electromagnetic part that maneuvers the valve's disc or plug, facilitating the opening or closing of the valve. This mechanism enables precise control over steam flow, thereby promoting efficiency and safety in your operations.
Gould Solenoid Valves: Leading the Pack in Steam Valve Solutions
Gould Solenoid Valves, a prominent U.S. manufacturer, recognizes the unique challenges and requirements in dealing with steam. Our solenoid steam valves are designed for peak performance and reliability, handling the high temperatures and pressures that come with steam management.
Featured Product: M-1-3T Solenoid Valve
Our standout product, the M-1-3T Solenoid Valve from the M Series, is an embodiment of our commitment to quality and performance. This valve is fashioned from durable bronze, promising enduring performance amidst the strenuous conditions of steam applications. Accommodating pipe sizes from 1/8″ to 2″ npt, the M-1-3T handles steam pressures from 5 to 125 psi, with media temperatures up to 356°.
The Advantage of Teflon Leak Proof Seats
The M-1-3T features Teflon Leak Proof Seats, a significant advantage when dealing with steam. Teflon's high resistance to temperature, chemical reactivity, and electricity makes it an ideal material for sealing applications in high-temperature environments.
Unrivaled Protection with NEMA 4X Watertight Coil Standard
The valve also showcases a NEMA 4X Watertight Coil Standard. This top-tier level of protection ensures that the valve's electromagnetic mechanism remains safe and functional, even in wet or humid conditions.
A Broad Range of Solenoid Steam Valves
Beyond the M-1-3T, Gould Solenoid Valves offers an extensive range of solenoid steam valves, including the M4-1-3T and M4-1-3EP. These different options cater to your specific operational requirements.
Choosing Gould Solenoid Valves: A Commitment to Quality and Efficiency
By choosing Gould Solenoid Valves, you're investing in valves that are manufactured and assembled in the USA, ensuring rigorous quality control and superior performance. Coupled with our broad inventory and custom manufacturing capabilities, we are dedicated to providing solutions that precisely fit your needs.
We prioritize fast delivery, maintaining a large inventory for rapid shipping from our Indianapolis, Indiana base. You get what you need, when you need it.
Conclusion: Partnering with Gould for Your Steam Operations
When it comes to managing steam in your industrial applications, investing in high-quality solenoid steam valves is non-negotiable. With Gould Solenoid Valves, you are guaranteed performance, reliability, and a partner dedicated to your success. Explore our range of solenoid steam valves on our website or call us at 800-634-6853 to discuss your specific needs. Elevate your steam operations with Gould today.
J D Gould Co Inc
+1 800-634-6853
4707 Massachusetts Avenue
Indianapolis
IN
46218
US